The Calliper Kids – Knox-Yarra Ranges Polio Support Group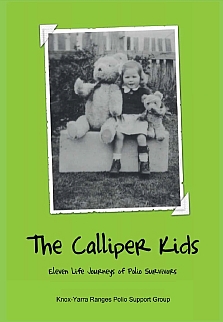 "The Calliper Kids" is a self-published book of eleven life journeys of polio survivors and was produced by the Knox-Yarra Ranges (Victoria) Polio Support Group in 2009.
There was a limited print run of the books, and all copies have since been sold. Project co-ordinator and convenor of the Support Group, Joan Smith, is now generously inviting anyone interested in reading the stories to download a PDF copy of the book.
Click here to download (182 pages, 4.12 MB)
---
As a polio survivor and convenor of the Knox-Yarra Ranges Polio Support Group, I invite you to join our storytellers in celebrating the defeat of childhood polio through tenacity and determination. Many achieved careers, raised families and took on leadership roles – ordinary people who achieved some extraordinary tasks, just by living everyday lives. However as midlife arrives, we have to face the challenges of polio again and as our stories reveal, make significant changes.
Thankyou, most importantly, to the polio survivors living in Knox and Yarra Ranges, who had the courage to revisit traumatic childhood experiences. The sharing of personal stories can be confronting as well as therapeutic and satisfying. We trust our readers will find them of interest.
Joan Smith
Project co-ordinator
[weaver_buttons list='57,48,49,51,53,55′]