Polio & us – Post Polio Support Group Ireland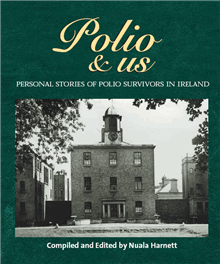 Personal Stories of Polio Survivors in Ireland
Compiled and Edited by Nuala Harnett
Project Coordinator – Paula Lahiff, Director, Post Polio Support Group Ireland
Published: 2007
The Post Polio Support Group Ireland has generously made a PDF copy of this book available for download.
Click here to download (98 pages, 6.53 MB)
---
"Polio & us" is a very thought provoking book. It is an important part of the history of the polio epidemics and their survivors who have overcome their disabilities without anger, but with cheerfulness and a determination which has been associated with polio survivors, even when they may later have developed Post Polio Syndrome. It should also be remembered that a lot of these cases occurred in very stressful times, such as during or soon after World War 2, which were extremely tough periods even without a debilitating disease.
Fortunately, in the western world new cases of polio are rare, but in other underprivileged areas there are still alarming numbers of new instances; and we must encourage all efforts, mainly through vaccination, to eliminate the virus worldwide.
We are very grateful to all who have contributed their stories to "Polio & us", which may not have been easy. However, I am sure that the telling is an important step in coming to terms with one's own polio; and I would also hope it will encourage more people to open up about their experiences and to communicate freely with other survivors.
Hugh Hamilton
Chairman
Post Polio Support Group Ireland
[weaver_buttons list='57,48,49,51,53,55′]